February 2012
Welcome to the February edition of the Ffestiniog Travel Newsletter, in this issue: Eurostar Avignon Services, Swiss Pass Offer, Rail Passes, Hotels and Eurostar security
2012 Avignon direct summer service
Eurostar tickets for the direct weekly summer service to Avignon in the heart of Provence are on sale now. Tickets are available from £109 return in Standard and £249 in Standard Premier.
The direct service will run every Saturday from London St Pancras International and Ashford International from 7 July to 1 September 2012.
The journey from London St Pancras International takes less than six hours (and less than 5h30 minutes from Ashford International) and delivers travellers within a short walk from the ancient city walls.
The recommended check-in time for the direct Eurostar service to Avignon is 60 minutes before departure.
Eurostar also offers connecting services all year round that arrive into Avignon TGV station, which is located just outside the town centre. To book, please contact Ffestiniog Travel on 01766 772050 or email dan.may@ffestiniogtravel.co.uk.
Swiss Pass Offer
If you fancy exploring Switzerland at a substantially reduced rate this year then we would like to tell you about a fantastic 2 for 1 offer which is available for a limited period during 2012 to couples who book through Ffestiniog Travel.
We are offering this 2 for 1 deal on the 4-day 'Swiss Saver Pass' and the 4-day 'Swiss Saver Flexi Pass' in both 1st or 2nd class for a minimum of two people travelling together at all times during the months of April, May, September, October and November this year.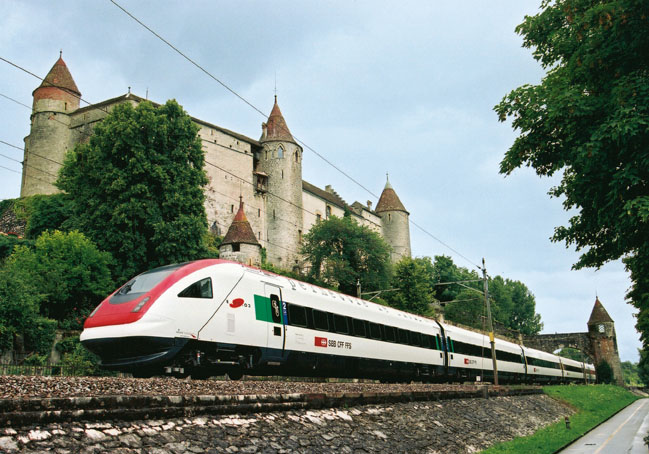 The 'Swiss Saver Pass 4 days' allows you unlimited travel on 4 consecutive days on railways, boats and most alpine postbuses covering a network of over 16,000km.
The Pass also includes free entrance to up to 400 museums, free travel on transport services of 38 Swiss towns and cities and a 50% reduction on privately owned funicular and mountain railways. A 1st Class 'Swiss Saver 4 days' Pass costs £251 per person and a 2nd Class £157 per person. The cost to a couple travelling during the promotional months would be just this amount.
The 'Swiss Saver Flexi Pass' includes the same benefits as above, but travel dates can be selected individually during the validity of the one-month pass and does not need to be used on consecutive days. It allows for more flexibility during longer stays in Switzerland. A 1st Class Flexi Pass costs £289 per person and 2nd Class is £181 per person which would be the full cost for a couple during the promotional period.
Those with children may also be interested in the free Family Card which allows children aged 6-15 to travel within Switzerland free of charge if accompanied by one parent. A Family Card is available on request at the time of booking.
To book, or for more information please contact Ffestiniog Travel on 01766 772050 or email dan.may@ffestiniogtravel.co.uk.
Rail passes
If you wish to travel further afield a rail pass may be just the ticket for you! Take a look at our website for more details of the rail passes we offer. Currently we supply Interrail Passes, Benelux passes and Swiss Passes, but watch this space as we will be soon be revealing a exciting new range of rail passes!
Did you know that we can also offer city transport passes for many cities around the world. Please ask if your destination is covered.
Hotels
Is your destination too far to travel in one day? Did you know that we can arrange accommodation for you to stop off enroute. Please ask us to add a hotel to your booking.
Eurostar: Additional checks for journeys from Brussels & Lille to the UK
With immediate effect, the UK Border Agency will be carrying out additional checks in the UK for some trains arriving from Brussels and Lille. Travellers may therefore experience a short wait before leaving the Eurostar terminals in the UK, please allow an extra 30 minutes for any onward connections.