Great Continental Railway Journeys
Continuing on his European exploration, Michael Portillo provides an insight into "Great Continental Railway Journeys" in this enticing programme. This five episode series is being shown on Thursday evenings at 9pm on BBC 2 and BBC HD.
Episode 5 - Thursday 6 December 2012
Michael Portillo uses George Bradshaw's 1913 Continental Railway Guide to explore the dazzling cities of the pre-war Low Countries beforing tasting the delicacies of Brussels. He then travels to the French sector of the Western Front, where from 1914 the trains carried a new cargo of artillery shells, with the Edwardian tourists of 1913 replaced by soldiers facing the horrors of the trenches. He will end his epic journey in the forest of Compiègne to hear how, after four years of conflict, the Armistice was finally signed in a railway carriage.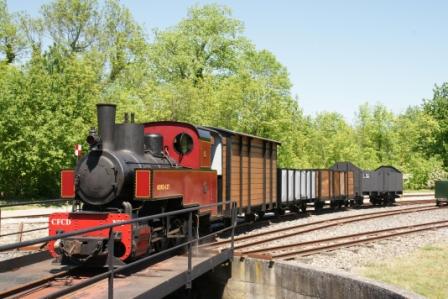 Le Petit Train de la Haute-Somme
© APPEVA
Follow Michael
Start your journey on board a high speed Thalys service from Amsterdam to Brussels. After exploring Brussels travel via Lille to Amiens. From there day trips to Froissey and Compiègne are possible. Fares from Amsterdam via Brussels and Lille to Amiens, with day trips to Froissey and Compiègne start from around £115 per person. The journey from Amiens to Froissey and back is now by SNCF run coach, but you could be rewarded by a ride on the steam hauled "Le Petit train de la Haute Somme". Trains run most Saturdays from mid April to the end of September, and daily, except Mondays, in July and August. Alternatively you may be interested in our escorted Railways and Wartime - Northern France tour to this area.
If you wish to find out more about European rail travel or would like to book a ticket please don't hesitate to contact us direct on 01766 772050 or email dan.may@ffestiniogtravel.co.uk. Further information can be found on our website www.myrailtrip.co.uk.

Ffestiniog Travel, First Floor, Unit 6, Snowdonia Business Park, PENRHYNDEUDRAETH, LL48 6LD
Tel. 01766 772957 • Fax 01766 772049