Celebrate Our 40th Anniversary with us and Join us on one of our favourite Annual Tours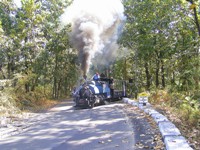 Climbing through the woods on the way to Darjeeling. © Bob Cable
We have further refined and improved our annual pilgrimage to India, a wonderful tour that combines the three extraordinary railways of the former British Hill Stations of Shimla, Darjeeling and Ooty, as featured in the BBC series 'Indian Hill Railways'.
These railways, that offer amazing scenery, astonishing engineering and fierce gradients, inspired us at Ffestiniog Travel to create an Indian journey that takes people from the foothills of the Himalayas in the north to the Blue Mountains in the south, a journey of cultural diversity, colonial splendours and breathtakingly memorable rail travel.
The extensive rail networks of the Indian Subcontinent are synonymous with the engineering excellence of the past. Amritsar, home to the renowned Golden Temple, is the first stop on this epic trip followed by the Punjab, including a stay in the romantic Nalagarh Palace Hotel. Nestled in the foothills of the Himalayas are the original workshops of the 'Kalka Shimla Railway' where vintage rail cars carry people to the first Hill Station at Shimla, a nostalgic destination once known as Ďthe summer capitalí of the British in India.
Next stop is Bengal and the 'Darjeeling Himalayan Railway' where a visit to the depot at Siliguri junction is a highlight for all rail enthusiasts. The ascent to the next Hill Station at Darjeeling is by a chartered train - hauled by a B class 0-4-0 and climbing 7,000 feet through breath-taking scenery along village streets, up to the summit of Ghoom with an awe-inspiring monastery. A stay in Darjeeling, the 'Queen of the Hills' is leisurely and peaceful.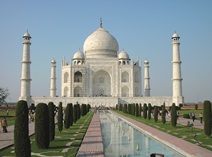 Taj Mahal
Finally, the charming 19th Century Hill Station of 'Ooty', high up in the Blue Mountains, is where the 'Nilgiri Rack Railway' climbs a unique metre gauge line - hugging the mountainside and delivering shimmering views of tea and spice plantations.
Indian Hill Railways is a journey, priced from £4,600pp, that Ffestiniog Travel has researched and refined to make it a true railway holiday yet includes lots of culture to ensure it has universal appeal. So donít miss out on this 21-day escorted tour and experience for yourself amazing landscapes as you journey through the enigmatic Indian Sub-Continent. If you need more convincing donít hesitate to contact us direct on 01766 772030 or email info@ffestiniogtravel.co.uk and we will discuss the tour in more detail with you.