Please forgive us for this email if you have already received a copy of our annual brochure which outlines our escorted tour programme for 2015. We have received a number of queries from regular customers concerned that they have not received the brochure.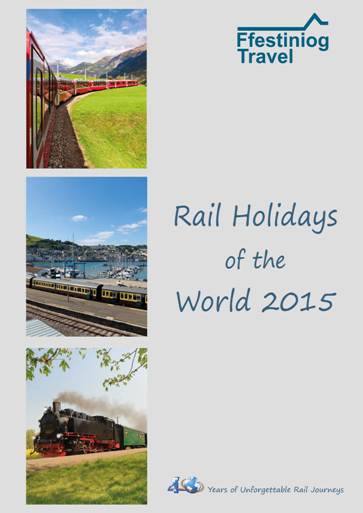 Rail Holidays of the World 2015
Our 2015 Rail Holidays of the World brochure was sent out late August, early September so we are writing to you now to ensure you successfully received yours. If you haven't please contact us by email at info@ffestiniogtravel.co.uk or call us on 01766 772030 as soon as possible so we can investigate problems that may have occurred with the distribution/postal service we used.
We know many of you who travel with us enjoy browsing through a printed version of our annual brochure and we want to make sure you still get that opportunity. Meanwhile you can view all our escorted tours for 2015 on our website at www.ffestiniogtravel.com or flick through the digital version of the 2015 Brochure.
The brochure details our festive shopping tours for 2014 including Christmas market tours to Vienna and Nuremberg, boasting some interesting railway content, as well as our annual Christmas & New Year visit to Switzerland. Switzerland has always been one of our popular destinations so we have introduced some multi-departures on some of our tours there alongside tours to Germany. Our European holidays also include two specialist tram tours around Austria and Germany. Further afield we look forward to returning to Japan and New Zealand and our love affair with India continues unabated with not one but two tours to the Sub-Continent in early 2015, our annual Indian Hill Railways tour and our new Great Little Trains of India Tour - which pays homage to India's remaining 2ft gauge railways. We continue to push the boundaries into the Balkans, an area relatively untapped by tourism with three tours to Romania in 2015 and yet another incorporating Eastern Romania and Moldova plus a second visit to Kosovo, Macedonia and Albania.
To get a real flavour of all these tours it is best to read them in full and our 2015 Brochure illustrates them wonderfully so to obtain your copy please don't hesitate to contact us via email or telephone as soon as you can.