Ffestiniog Travel's affection for India's heritage railways continues unabated with not one but two visits to the Sub-Continent early next year. There is still time to reserve your seat on one of these tours, guaranteed to deliver 'Unforgettable Rail Journeys'.
Our annual escorted tour of India's Hill Railways continues to be popular with those who wish to experience India's Colonial past through its railways. We delve deeper into India's railway history on our new 'Great Little Trains of India' tour that rides the country's remaining 2ft narrow gauge lines. Below are the edited highlights of both tours.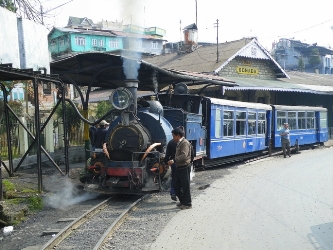 Darjeeling Himalayan Railway ©Bob Cable
20-day tour from £4,350pp - 10th January to 29th January 2015
A well-researched tour offering seasoned travellers to India the chance to journey on 2ft gauge railways via Mumbai, Goa, Hyderabad, Gwalior to Delhi. Includes:
The Matheran Railway
Ride the last remaining 2ft gauge part of the Scindia State Railways at Gwalior
Private steam charters on Darjeeling Himalayan Railway (DHR)
Journey on the 'Joy Train'
A daytime journey down the Konkan Railway that follows the Arabian Sea coast to Goa
Pushpak Express to Igatpuri where we climb the Ghat Section, an extraordinary piece of railway
The Goa Express from Vasco da Gama includes a second climb up the Ghats on a formerly metre gauge line past Dudhsagar Falls
Visits to the Delhi Railway Museum & the DHR Museum
Wonderful sightseeing in Mumbai, Goa, Hyderabad, Gwalior, Darjeeling and Delhi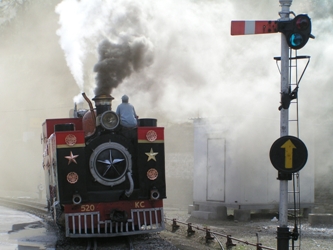 Kathleeghat Steam Train ©Bob Cable
21-day tour from £4,550pp - 15th February to 7th March 2015
This popular tour combines the three most exceptional railways that served the former British Hill Stations. New next year is a journey on the Rajdhani Express between Delhi and New Jalpaiguri. Includes:
Private carriage or Railbus on Kalka Shima Railway
Private steam charter - Shimla to Kathleeghat
Taj Mahal & Red Fort
Private steam charters - Darjeeling Himalayan Railway (DHR)
Journey on the 'Joy Train'
Visits to the Delhi Railway Museum & the DHR Museum
Workshop visits at Kalka Shimla & DHR Railways
Sightseeing in Amritsar, Delhi, Darjeeling & Ooty
Sights include Atari-Wagah Frontier, Golden Temple, India Gate, Dodabetta Peak, Tea Garden and much more
The price of both tours covers all transportation, stays in good, quality hotels and many lunches and dinners. Our escorted Indian tours are designed to allow you to relish the journey, guided by your expert tour leader, and appreciate the convivial company of a small group of fellow travellers.
So if you're looking for an early 2015 holiday that combines exotic destinations with culture and great rail journeys then call us to chat through our Indian tours on 01766 772030.