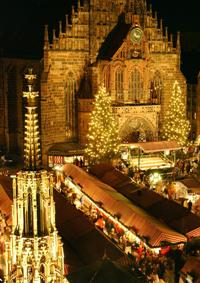 Weihnachtsstadt Nürnberg ©Birgit Fuder
Indulge your passion for trains alongside some Continental Christmas shopping and merriment – ideal for couples looking for a bit of both!
Ffestiniog Travel's 2014 Christmas Market tours venture to Vienna and Nuremberg, both famous for the magical atmosphere created during the festive season. But shopping isn't the sole occupation on these tours, we are offering some optional railway extras - guaranteed to catch the interest of our rail connoisseur customers.
We travel entirely by train on our 8-day escorted tour to Vienna, departing 27th November. Wander around its 20+ Christmas markets as you take in the city's impressive architecture and culture. There will also be an opportunity to travel by train to Budapest to browse through its 100 Christmas stalls. For rail fans there will be an optional excursion on the 84km Mariazellerbahn narrow gauge railway. Priced from £1,135pp, the cost includes a city transport ticket and InterRail Pass allowing you the chance to explore Vienna and the surrounding area independently.
Nuremberg is Bavaria's second largest city and boasts opportunities for Christmas shopping, cultural nourishment AND interesting railway excursions. This 8-day tour, departing 27th November includes a public transport pass and InterRail pass in the price of £1,165pp. This provides the opportunity to visit the historic 15th Century medieval town of Rothenburg ob der Tauber, one of Germany's best railway museums at Neuenmarkt-Wirsberg which houses steam engines, electric and vintage locos and there will be optional journeys on the Oberweissbacher Bergbahn and Schwarzatalbahn, a mountain railway whose combined lines incorporate a broad gauge funicular and a standard gauge line.
If you are looking for a classic festive holiday then look no further than Switzerland. Our annual 12-day Christmas & New Year in Switzerland tour, departing 22nd December, provides the perfect wintry backdrop for a 'white' Christmas rail holiday. Enjoy a relaxing 6-night stay in Wilderswil and a 5-night stay in Lucerne. All travel in Switzerland is by first class Swiss Pass, included in the price of £2,155pp. Our tour leader will provide escorted excursions or will recommend options for those who want to explore independently using their Swiss Pass to travel on trains, trams and post buses. The tour includes travel on the iconic Golden Pass rail route, and a New Year's Eve celebration supper on Lake Lucerne aboard the Silvestre Spaghettata steamer.
So if you are feeling festive give us a call on 01766 772030 or email info@ffestiniogtravel.co.uk to find out more about these tours or if you wish to consider a tailor made option.