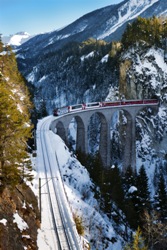 Rhaetian Railway ©Switzerland Tourism-BAFU-swiss-image.ch/Roland Gerth
You don't have to be a skier to really enjoy the Swiss Alps in winter. Take a more leisurely approach and take the train, sit back and enjoy the most wonderful views of snow-capped mountains and icy lakes you will ever see.
Switzerland's rail network blends man's incredible feats of engineering with one of world's most spectacular and natural regions and the results are unforgettable, breathtaking journeys.
Our 10-day Snow on the Alps escorted tour is one of our most popular winter holidays because of the destination, the views, relaxing rail journeys and the security of being part of an escorted tour, but with the flexibility of having plenty of freedom and opportunity to explore independently with a first class Swiss Travel Pass.
Holiday highlights include:
Eurostar and TGV for fastest possible journey time from London to and from Switzerland
First Class Swiss Pass for unlimited travel for the whole holiday on trains, trams, postbuses and lake steamers - no expensive excursions to pay for
Stays in Chur and Thun in the heart of the Alps
Ride the Bernina Express & UNESCO World Heritage Rhaetian Railway network
Enjoy the world's slowest express train, the famous Glacier Express
Your tour leader will arrange optional excursions on free days to Arosa, Davos, Montreux and Mürren at no extra cost.
If you want to experience a true winter themed break and encounter the magic that this season bestows on the Swiss Alps, reserve your front row seat now – you won't be disappointed. This tour fills up fast so don't leave it too late to book. Call us direct on 01766 772030 to discuss the tour in more detail or consider a tailor made option for a couple or group.