Three escorted tours that offer something for everyone - the steam engine enthusiast, the train tourist looking for unforgettable rail journeys through snow-drenched scenery and the rail adventurer in search of more exotic destinations.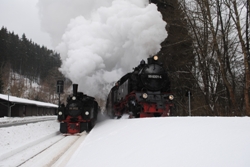 99-5902 & 99-6001 at Alexisbad ©Mike Steadman
This 8-day tour includes three days at the Harz Winter Gala - a perfect time to see this stunning part of the world in its full frosty glory. Based in the centre of enchanting Wernigerode you can enjoy its 'olde world' charms in full with easy access to the special gala trains and lots of opportunities to capture great images during planned photo stops and run pasts. Your tour leader will be on hand throughout the tour to ensure you make the most of what this picturesque rail network and its surroundings have to offer. The outbound journey will be by Eurostar via Brussels with an overnight stay in Aachen and the return will include an overnight stop at Wuppertal where there will be an opportunity to explore the Rhine-Rhur area with a public transport ticket (included in the price) providing free travel on Wuppertal's famous suspension railway. So if you haven't booked your winter break yet consider this tour, priced at £1,200pp, and discover Germany's snow-capped mountains during a period when an abundance of steam locos will be in full throttle.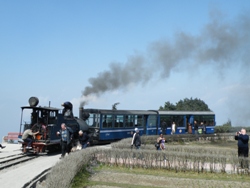 Darjeeling Himalayan Railway Joy Train ©Bob Cable
Our popular annual Indian Hill Railways tour combines the three most exceptional railways that served the former British Hill Stations. This tour now includes a journey on the Rajdhani Express between Delhi and New Jalpaiguri. It is an extensive holiday, yet relaxing and includes a private carriage or Railbus journey on the Kalka Shimla Railway, a private steam charter from Shimla to Kathleeghat and private charters on the Darjeeling Himalayan Railway (DHR) and we also journey on the 'Joy Train'. For the rail enthusiast we visit Delhi Railway Museum & the DHR Museum as well as workshop tours on the Kalka Shimla & DHR Railways. For the non-rail enthusiast there will be plenty of sightseeing opportunities in Amritsar, Delhi, Darjeeling & Ooty. Famous landmarks include the Atari-Wagah Frontier, Golden Temple, India Gate, Dodabetta Peak, Tea Garden, Taj Mahal and the Red Fort. This 21-day tour, priced from £4,550pp is a wonderful way to see the Sub-Continent and experience its culture, landscape as well as its railway heritage.

VERY Limited Availability!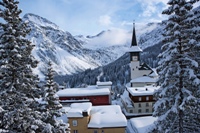 The tradition-rich holiday resort of Arosa
If you simply want to marvel at Switzerland's winter wonderland of mountains and Alpine scenery then take a ride on the world famous UNESCO Rhaetian Railway which delivers some of the world's most breathtaking views. This 10-day escorted holiday includes a 4-night stay in Chur and a first class Swiss Pass, allowing unlimited journeys on trains, including the Rhaetian Railway, as well as postbuses, trams and lake steamers. A journey on the Glacier Express takes you to Thun for a further 3-night stay where you can again explore the area with your Swiss Pass. Your tour leader will arrange optional excursions on free days to Arosa, Davos and Montreux at no extra cost. Priced from £1,660pp this tour delivers everything you could wish for in a winter railway break.

Please don't hesitate any longer to call us on 01766 772030 or email info@ffestiniogtravel.co.uk for more information and to reserve your seat. Make 2015 a year of travel and unforgettable rail journeys.