Our previous emailshot featuring this tour in December 2014 attracted some keen interest and bookings so in the event that further interested parties are still undecided about joining this wonderful educational flower tour of Majorca, here is a reminder.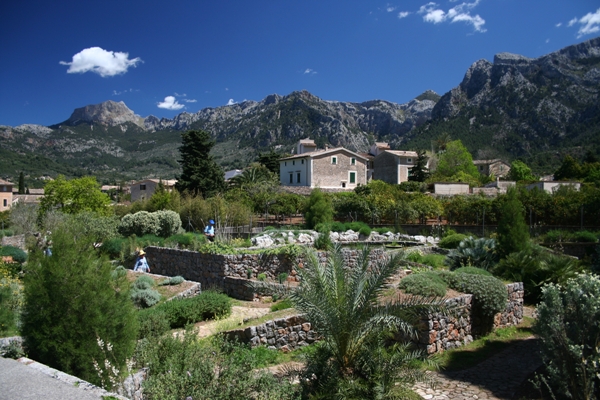 Jardim de Soller ©Robert Callow
You have until the end of this month, 31st January 2015, to decide as bookings for this Special Interest Tour will close that day. To refresh your memories or for those who didn't see the previous notice we are repeating our popular Wild Flowers of Majorca tour for a fourth year and botanist Dr Robert Callow will again lead this 8-day informative trip to the largest and most diverse of the Balearic Islands - home to an extensive flora.
The island has a wide range of natural habitats, encompassing marshland, mountain valleys, rocky shores and sand dunes, as well as formal gardens and Neolithic sites that are best seen in the spring before the summer heat invades. The tour will base itself on the quiet and beautiful north coast of the island, in easy reach of areas of outstanding beauty including the famous 'Pine Walk' along Bahia de Pollensa, the Formentor Peninsula, which provided the film location for 'South Pacific', the Arta Peninsular with its dramatic pine woodland and the Ses Paisses Neolithic settlement. We also visit the exquisite Soller botanical gardens and the homes and gardens of such famous notaries as Robert Graves, the Austrian Archduke Luis Salvador, who spent years studying the natural history of the Balearic Islands, and the retreat of Chopin and George Sands. All these sites showcase flowers that are native to Britain but have adapted to the Mediterranean climate and others that are quite unique.
Dr. Robert Callow is a lecturer at Manchester University and is a specialist in this subject and, whilst it is not a strenuous tour, we should mention that it is an educational experience as well as a holiday. There will be time for some general sightseeing to make sure you get the full Majorcan cultural experience. The tour departs from Manchester Airport on 13th April 2015, and the price from £1,300pp, includes flights, hotel accommodation, breakfasts and evening meals, all coach transfers, entrance fees and the services of Dr Callow.
So if you would like to extend your interest in flowers further afield to Majorca and combine it with a holiday in the company of like-minded people this is the tour for you. Bookings will close on 31st January 2015, therefore if you wish to reserve a place please do so as soon as possible. For a full itinerary visit the Wild Flowers of Majorca tour page on our website at www.ffestniogtravel.com and if you have any further questions contact alan.heywood@ffestiniogtravel.co.uk or call 01766 772030.