Be our guest for a day at this year's Destinations Show at Olympia in London from 29th January to 1st February 2015. We have complimentary tickets available so you can enjoy the UK's biggest and longest-running travel show.
Ffestiniog Travel will be exhibiting at the holiday and travel show for four days as a member of the Association of Independent Tour Operators (AITO). The event will be packed with hundreds of leading and independent tour operators, over 70 tourist boards from across the globe, cultural entertainment, world food flavours, travel celebrities and much more.
Our rail travel specialist Dan May will be there in person to answer any questions you may have about rail journeys and our escorted tour programme. Two of our tour leaders will also be available to chat about their rail travel experiences.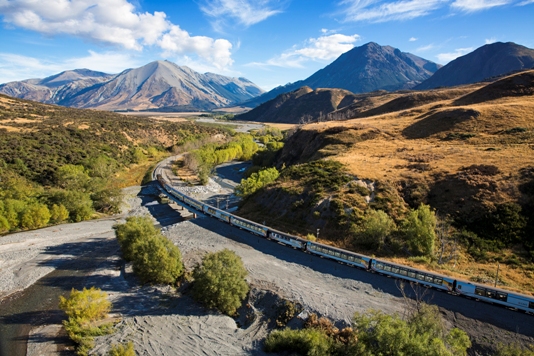 Kiwirail Scenic TranzAlpine
Simply click on this link www.destinationsshowtickets.com and choose the London Show button and enter the acronym AITO in the reference box and your personal details to obtain your e-tickets. Ffestiniog Travel will only be attending the London show this year and we look forward to seeing some familiar faces and chatting with current and potential new customers. The AITO Stand will be situated at E82 (in the Europe section).
There will be a huge choice of travel options to inspire you to discover new destinations and hidden corners of the ones you are already familiar with. New to the show this year is the Stanfords Travel Writers Festival with a line-up of explorers, adventurers, TV presenters, journalists, politicians, food writers, poets and comedians who have become travel authors and will be sharing their experiences. Guests include former BBC News war correspondent Kate Adie and comedian Griff Rhys Jones.
We hope you take advantage of this opportunity to browse the world in one-day under one roof and get lots of ideas to help fulfil your travel inspirations. Don't forget to come and visit us too.