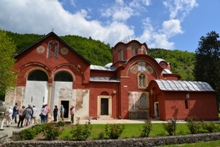 Serbian Orthodox Monastery Peja Kosovo © Mike Steadman
A repeat of our escorted tour to Kosovo, Macedonia and Albania. This 13-day tour, priced from £1,650pp, allows you to visit parts of Europe not yet on the tourist map so you get a real picture of life in the Balkans region. English-speaking local guides provide tours around the interesting city of Prizren and the historic Gračanica Monastery, founded in 1321 and Peja surrounded by the 9000ft high Rugova Mountains. This tour is a perfect mix of scenic rail lines, culture and history with free time to explore Macedonia's stunning capital Skopje and visit beautiful Lake Ohrid, a Cultural and Natural World Heritage site.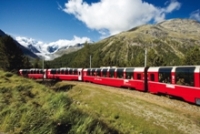 Bernina Express tackles the Montebello Curve © Swiss-image.ch/Andrea Badrutt
During this 15-day escorted tour, priced from £2,240pp you will not tire of staring out at the magnificent mountain landscape of Switzerland. It includes leisure time in Chur, Bellinzona, Meiringen and Neuchâtel when there will be plenty of 'free' days to sightsee independently, using your first class Swiss Pass (included in the tour price) which enables unlimited travel on trains, trams, post buses and steamers. Alternatively your tour guide will provide optional, escorted excursions on 'free' days if you prefer to sightsee within a group at no extra cost. Your tour leader will be on hand to offer suggestions and guidance on places to visit, for example whilst based in Chur you can plan excursions using the UNESCO World Heritage Rhaetian Railway or enjoy riding the Appenzellerbahn network around St Gallen. Other highlights include scenic journeys on the Gotthard North-South route, Bernina and Glacier Express rail routes and the Centovalli line.

Lake Thun © Switzerland Tourism
This tour, priced from £2,375pp, offers a wonderful mixture of city culture, art, beautiful, serene lakeside landscapes and ends with close-up railway views of majestic mountains. We visit Florence and Lake Garda in Italy before moving on to Switzerland using the world famous Glacier Express route. Optional visits to Siena and Venice have been included to allow you to experience Italy's wonderful history. During your second week your first class Swiss Pass allows independent sightseeing as you explore the beautiful mountains and lakes of Switzerland using trains, trams, post buses and steamers. Optional escorted tours will also be available from the tour leader on 'free' days at no extra cost.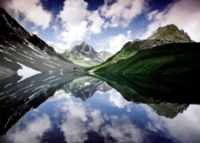 Arosa in the Graubuenden Region © Swiss-image.ch/Max Schmid
This 10-day rail tour of Switzerland, priced from £1,715pp, bases itself in Interlaken and Chur, both great resorts from which to explore the Swiss Alps. There will be plenty of time to relax and enjoy your surroundings independently with your first class Swiss Pass or join optional escorted excursions on 'free' days at no extra cost. From Interlaken you can enjoy extensive travel on the railways of the Jungfrau region, highlights include the rack railway to Schynige Platte and the Alpine Garden, Kleine Scheidegg located directly at the foot of the Eiger North Face and of course Jungfraujoch itself, the highest railway station in Europe. Other recommended rail journeys would be the steam hauled Brienzer Rothorn and the Gornergrat Railway from Zermatt. From Chur you can explore the world famous Rhaetian Railway routes and the Appenzellerbahn network around St Gallen. Lots of choice plus journeys on the Bernina and Glacier Express included.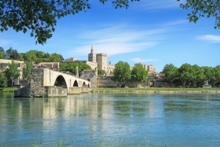 Pont d'Avignon and Walled City on the Rhone © www.shuttershock.com
This 14-day rail tour follows the course of the river Rhône from the Camargue Delta to its source in the Swiss Alps by train, passing through stunning scenery as we travel along the river's route through France and Switzerland. The journey, priced from £1,990pp, includes stays in Arles, Tournon, Montreux and Andermatt with day trips to Avignon, the wonderful Vivarais Railway, the Furka Steam Railway and a first class Swiss Pass enables unlimited travel when in Switzerland.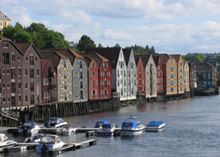 Trondheim © Bob Cable
This Scandinavian rail holiday embraces Norway and Sweden. We travel beyond the Arctic Circle to the Land of the Midnight Sun and we bring you historic cities, wonderful rail journeys and outstanding scenery priced from £2,735pp. From the famous Flåm Railway, the Kroderbanen and Urskog preserved railways to the Inlandsbanan line this is a rail tour that showcases the best of this region of Europe. As a popular tour favourite since 1975, this holiday lives up to its remarkable expectations.

All these tours are available in full on our website at www.ffestiniogtravel.com but please contact us direct via email info@ffestiniogtravel.co.uk or call 01766 772030 to discuss any of the above holidays.