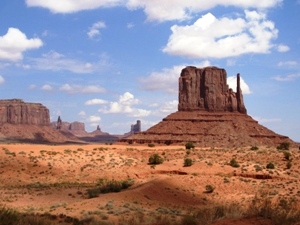 Monument Valley, Utah © Alan Heywood
America is a vast country with many diverse holiday options available to travellers, but for a real taste of the 'good old U S of A' why not journey through its 'wild west' and see what shaped this country and inspired an ongoing love affair with Western-style movies.
This 19-day escorted tour begins with a 3-night stay in San Francisco before we cross the dramatic plains, impressive canyons and valleys of California, Nevada, Utah and New Mexico by train to Denver, Colorado. The route provided the backdrop for many famous Westerns and our journey includes stays at some of the iconic 'Big Country' landmarks on the way such as Yosemite National Park, Bryce Canyon, the Grand Canyon, Monument Valley and the Mesa Verde.
The railroads played an important role in developing America's 'Western Frontier' and this tour pays homage to this by visiting the renowned California State Railroad Museum in Sacramento where the first Transcontinental Railroad began. We also journey on the Royal Gorge Railroad that follows the raging Arkansas River and was once part of the Transcontinental main line. Other railroads we travel on provide an insight into how the 'old west' developed, including the Roaring Camp and Big Trees Railway that once carried the giant Redwoods to the Pacific Ocean. We take a trip on the three foot gauge Sugar Pine Railroad that travels through the Sierra National Forest, famous for Giant Sequoia Redwoods.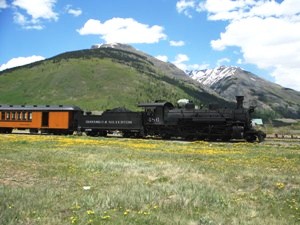 Durango and Silverton train, Colorado © Alan Heywood
The Durango and Silverton Railroad steams through the Animas Canyon to Silverton, a wonderfully preserved old mining town and the Cumbres and Toltec Railroad climbs a mighty 10,015ft to the summit at Cumbres Pass by steam. Our final railroad journey is on the rack railway that ascends Pikes Peak at Colorado Springs, the highest summit of the southern Front Range of the Rocky Mountains of North America.
It is an epic tour, priced from £3,475pp, which includes plenty of stays along the way so you can enjoy the many 'wild west' wonders the US boasts. We also overnight on Amtrak's comfortable 'California Zephyr' to cover as much ground as possible. A highlight is a 2-night stay at the Delta King in Sacramento - a genuine riverboat that cruised the Sacramento River until 1940 before becoming a floating hotel.
This is a holiday of a lifetime and you will return with a deeper understanding of America's short history and an appreciation of its remarkable landscape and pioneering spirit. The content of this escorted tour is very comprehensive and offers great value for money, it can be viewed in full on our website by clicking USA Canyons & Railroads Please do not hesitate to contact us direct via email at info@ffestiniogtravel.co.uk or call 01766 772030.
LATE AVAILABILITY:
LAST CALL TO BOOK YOUR SEAT ON OUR NEW ZEALAND IN STYLE ESCORTED TOUR DEPARTING 12 APRIL 2015. A WONDERFUL 26-DAY RAIL JOURNEY THROUGH AMAZING LANDSCAPES AND COASTLINES WITH STOPOVERS IN HAWAII AND FIJI. CALL 01766 772030 TO RESERVE YOUR SEAT.