The electric tram has come a long way since the first one was launched in Berlin in 1881 - the Gross Lichterfelde Strassenbahn. Cities around the world enjoyed a period of urban tram transportation before many reverted to bus or train MRT systems in the 1960s. However, the older tram systems have not been completely forgotten; many cities still operate the odd tram or two for prosperity, as a major tourist attraction or heritage line. This year Ffestiniog Travel pays homage to the tram with two escorted tours that journey around Austria and Germany, encountering both modern and historic tram networks. For those who enjoy nostalgic holidays consider one of the following 'Train & Tram' tours.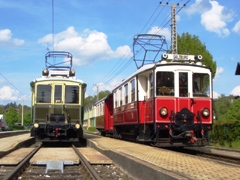 Salzburg - Trams
This comprehensive escorted tour takes in all of the major tram networks in Austria, together with some of the best scenic mainlines and narrow gauge lines. There is plenty of time to enjoy some of the most beautiful cities in Europe too. This is a holiday which will indulge your passion for tram travel whilst you also enjoy the culture, scenery and sights Austria has to offer.
Holiday highlights at a glance:
Unlimited travel on tram networks in Innsbruck, Graz, Vienna, Linz & Frankfurt
Private tour of Vienna in a historic tram & Museum visit
NostalgieBahn, Murtalbahn, Tiroler Museumbahn, Traunseebahn, Gmundner Strassenbahn
Steam hauled train on the Zillertalbahn; Mariazell Tramway Museum; Scenic tram ride to Igls; Steam hauled train on the Zillertalbahn
Rail journey through Semmering Pass
Rail journey via the classic route from Germany to Austria along the Rhine River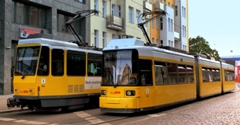 Berlin Trams © Calflier001
This escorted tour will also indulge your passion for trams, whilst giving you the opportunity to soak up the culture and hospitality that make Germany such a great destination. It is a comprehensive, yet relaxing 15-day escorted tour that travels the width of Germany by train; exploring the heritage and current workings of the country's tram network en route. You will visit five captivating cities where trams play an intrinsic part of the public transport system.
Holiday highlights at a glance:
Unlimited travel around Essen, Hannover, Leipzig, Berlin & Cologne
Guided tour of Wehmingen Tram Museum with historic tram ride
Historic tram ride on Schöneiche-Rüersdorfer Strassenbahn with workshop tour
Historic tram ride on Wolterdorfer Strassenbahn with workshop tour

Please contact us direct on 01766 772030 or email info@ffestiniogtravel.co.uk for more details on these tours.