When putting together any escorted tour the content and itinerary is essential - it is the key to attracting interest and ensuring value for money. A rail holiday therefore, not only requires appealing destinations, but the train journey itself has to capture the attention of the traveller.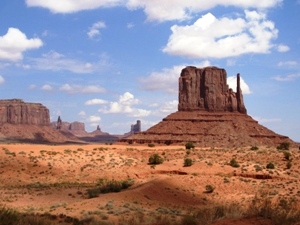 Monument Valley, Utah
So why should Ffestiniog Travel expect people to fly to the west coast of America and then journey by train through several states to Colorado, before flying home again? When researching our epic 19-day USA Canyons & Railroads escorted tour, the problem wasn't finding enough wonderful and extraordinary things to include, but what to omit!
To help you understand the wealth of sightseeing options this rail route across the dramatic plains, impressive canyons and valleys of California, Nevada, Utah and New Mexico to Denver offers, we recommend reading some independent articles about the many highlights you will encounter on this wonderful 'wild west' tour.
Mesa Verde is Spanish for "green table" and is a remarkable, ancient cliff-rock settlement that rises 2,000ft above the Montezuma Valley. Archaeologists have located more than 4,800 archaeological sites (including 600 cliff dwellings) dating from about A.D. 550 to 1300 which were home to the ancestral Puebloans. An unforgettable place to visit according to this National Geographic article.

This tour includes an overnight journey on Amtrak's famous 'California Zephyr' train which delivers "beautiful views and a tangible sense of history on the route over the Sierra Nevada mountain range that helped bring America together after the Civil War", according to a Huffington Post article which provides a little history on the rail route. Additionally, the Lonely Planet lists the Zephyr's journey as the best scenic train ride in the US, including the Nevada section we travel through. Click here to read what else they say.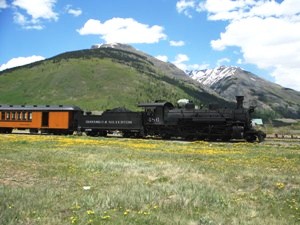 Durango and Silverton train, Colorado
If reading the articles mentioned above is enough to whet your interest and give you the travel bug, then you are in for a treat as there is lots more to see on this amazing US tour priced at £3,475pp. Other star attractions include visits to the well documented Yosemite National Park, Bryce Canyon and of course the Grand Canyon. A taste of city culture is provided by stays in San Francisco, Santa Cruz and Sacramento.
The departure date for this tour is 4th June 2015 so don't leave it too long to decide. If the timing is inconvenient, but you are still keen to 'Go West' then call us on 01766 772030 or email info@ffestiniogtravel.co.uk to discuss your very own tailor made holiday option to America's 'Wild West'. Full details of our USA Canyons & Railroads tour are on our website at www.ffestiniogtravel.com