Request from Ffestiniog Travel – Share Your Holiday Views & Experience

Ffestiniog Travel strives to ensure that we are providing you with the best possible service, information and holiday options available on the market. Your custom is very important to us and we therefore feel every now and then, we should ask your opinion and preferences when considering and booking your holidays.
We would appreciate if you could take just a few minutes to click on the link below to complete a fairly straight-forward travel survey. You may submit this survey completely anonymously. However, at the end of the survey you have the option to submit your name into a draw to win an Ipad Mini (registered trademark of Apple Inc.) - this is totally at your own discretion. If you enter the competition you will only be contacted if you are a winner and your email address will not be passed onto any third party.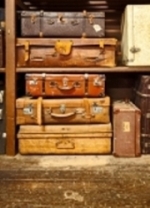 The survey is being run by the Association of Independent Tour Operators (AITO) of which Ffestiniog Travel is a member. The Association encourages the highest standards in all aspects of tour operating from financial security, professional services, customer relations to sustainable tourism. Your thoughts on travel and holidays will help both AITO and Ffestiniog Travel to continue to ensure a high standard of quality and care within the independent tour operator market.
Take the survey here.
This survey will close at midnight on 26 May, 2015.
To find out more about AITO visit their website at www.aito.com. The Association actively encourages feedback on member's holidays on an ongoing basis and publishes independent customer comments on their website. We thank those who have travelled with Ffestiniog Travel and shared their views on the AITO site, click here to find out what they said.
Many thanks in advance for taking the time to complete and submit the survey which will provide useful information on travel habits and trends for small tour operators. Your response will really help us shape the way we work in future.
Yours sincerely
Maria Cook
General Manager

Ffestiniog Travel, First Floor, Unit 6, Snowdonia Business Park, PENRHYNDEUDRAETH, LL48 6LD
PRIVACY NOTICE AND NO SPAM POLICY:
We at Ffestiniog Travel take your privacy seriously. You have received this message because your address was placed on our mailing list. We will only send information which we hope will be of interest and will not share contact details with other organisations without your permission. If you do not wish to receive further emails please send an email to kate.berry@ffestiniogtravel.co.uk with "unsubscribe" in the subject line. If you no longer wish to receive our brochures please state this in your email.