Tram Tours of Europe – Great way to Explore the Continent's Cities

As a tour operator that organises rail tours we have regularly included fellow track mode of transport, the tram, in many of our itineraries and over the years have identified a particular interest among our customers for dedicated tram tours.
This year we have responded with not one but two tram tours to European destinations that boast some of the oldest, most modern and widespread tram and trolley bus networks in Austria and Germany.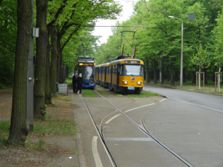 Leipzig Trams (c) Richard Lemon
When you visualise a visit to a European city the image of a tram travelling through continental squares and streets often comes to mind, a nostalgic, if not romantic, way of navigating around these urban destinations. We are still taking bookings for our 15 day Grand Austrian Tramways tour that departs 11th June and offers a comprehensive tour of the country's finest cities including Innsbruck, Salzburg, Vienna, Graz and Linz. Included in the tour, priced from £2,030pp, are public transport tickets that allow travel on the length and breadth of these cities' tram systems.
Even for those without a particular interest in trams, this tour is a wonderful way of exploring Austria by train and its cities by tram including a rail journey on the scenic World Heritage Semmering Pass line. Badged as dedicated tram tours the itinerary must include substantial tram excursions, visits to museums and rides on historic trams to satisfy the tram enthusiasts. To give you a taste of what you can expect we recommend reading urban rail blogger Robert Schwandl's experience and expert commentary of the tram networks we visit in Austria including Linz, Graz, Innsbruck and Vienna.
During our stay in picturesque Salzburg we visit nearby Gmunden and ride its delightful 1.5 mile narrow-gauge tram through its streets and to give you an idea of what you can expect here's a YouTube video of the journey.
Our 15-day Tramways of Germany tour this year aptly coincides with the 150th anniversary of the opening of the first tram line in Berlin. Here is an interesting piece of the city's tram history showing footage of when trams began to disappear from West Berlin in 1967. There will be free time to use your public transport ticket, included in the tour price of £1,990pp, to explore Berlin's complex tram network but to help you in advance here's a guide to getting around the German capital.
Other German city destinations on this tour include Essen, Hanover, Leipzig and Cologne - all interesting, cultural and historic destinations in their own right but our itinerary boasts in-depth rail and tram elements too. Random Streets, a blog-based website offering observations of transport systems on the streets of random places at home and abroad include this one on Essen, Cologne and Berlin
A combination train and tram tour is a wonderful way to travel through Europe and explore its cities. Next year we are planning two more dedicated tram tours around the Low Countries and Switzerland's impressive tram and trolley bus systems. If you are interested in joining our tram tours to Germany and Austria this year please call to discuss details on 01766 772030 or email info@ffestiniogtravel.co.uk. Why not create your own, bespoke tram tour around Europe at a time convenient to you? Call and speak to one of our Tailor Made travel consultants to discuss options.
Yours sincerely
Maria Cook
General Manager

Ffestiniog Travel, First Floor, Unit 6, Snowdonia Business Park, PENRHYNDEUDRAETH, LL48 6LD
PRIVACY NOTICE AND NO SPAM POLICY:
We at Ffestiniog Travel take your privacy seriously. You have received this message because your address was placed on our mailing list. We will only send information which we hope will be of interest and will not share contact details with other organisations without your permission. If you do not wish to receive further emails please send an email to kate.berry@ffestiniogtravel.co.uk with "unsubscribe" in the subject line. If you no longer wish to receive our brochures please state this in your email.