Providing Rail Holiday Information at the Touch of a Button - but Keep Calling!
As a pre-cursor to our escorted tour programme for 2016 we mailed out the Ffestiniog Travel Pre-Brochure to everyone on our mailing list, but in this digital age we are very much aware that many of you prefer to receive holiday information electronically.
So for those who receive our weekly emailshot, who may not have signed up for a printed copy of the Pre-brochure, you can now simply click here to view an online version of the 2016 escorted tours preview.
Full tour itineraries are now available on our website for the following late 2015, early 2016 tours: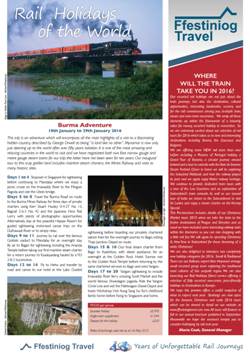 Travel survey statistics show that more and more people are searching for holiday ideas online but one survey entitled The Well Connected Traveller by Travelport states that printed materials, television, professional advice and recommendations by word of mouth and social media also have a key role to play in the holiday selection process.
"Survey findings indicate that whilst the Internet becomes more widely accessible and more extensively used, it does not replace the demand for face-to-face travel advice. Additionally, brochures and other materials remain important, whether content is printed or available online. However, because the amount of available information is vast, people are now looking for something tailored to their needs. The scalability of websites means that the philosophy to date has been 'more is more' and it's beginning to become counter-productive."
At Ffestiniog Travel we promote our holiday products both online, via social media on our Facebook and Twitter pages and through our annual brochure in a bid to meet the enquiry needs of all our current and potential customers. We actively provide as much initial information as we can on every rail holiday, but we vigorously encourage people to continue to pick up the phone and talk direct to or email our team of travel experts to ensure all their questions are fully answered before the booking process actually begins.
A 2014 TripBarometer by TripAdvisor states that 92% of UK travellers say that reviews are essential when booking a holiday. You can view customer feedback on our tours here and for more comments visit the Ffestiniog Travel testimonial page on the AITO website.
Our escorted rail holidays are not just about the train journeys, but also the destination, cultural opportunities, interesting landmarks, scenery and for the rail connoisseurs among you, in-depth train, steam and even tram excursions. We wrap all these elements up within the framework of a leisurely, value for money, escorted holiday to remember. According to ABTA's Travel Trends Report 2014 7% of consumers now consider taking a train holiday and it attributes this increase to people seeking alternative options to flying, the growth of high speed rail, particularly across Europe, and consumers looking for good value holidays close to home.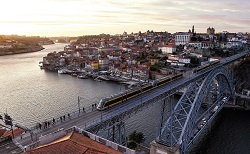 Metro Porto © Dario Silva
We hope our selection of rail tours for 2016 provides a wide variety of rail holiday options including interesting destinations such as Burma, the Caucasus and Bulgaria. We are running more NEW rail tours than ever before including a Pictures of Portugal holiday, a Grand Tour of Bavaria, a circular journey around Ireland and a tour to coincide with the Baie de Somme Steam Festival. Closer to home we will be exploring the Industrial Midlands and how the railway played its part and we again enjoy Wales' railway heritage. We continue to provide dedicated tram tours with a tour of the Low Countries and an exploration of Switzerland's tram network. As well as our annual tour of India we return to the Subcontinent to visit Sri Lanka and enjoy a steam charter on the Viceroy Special.
At the moment we are busy finalising the itineraries for all our 2016 escorted tours and they will be available on our website and in our annual, printed brochure from early September, to pre-order your copy email us at info@ffestiniogtravel.co.uk. Meanwhile we hope the pre-brochure offers a useful snapshot of what to expect next year and bookings are now being taken for the autumn, Christmas and early 2016 tours. Call us on 01766 772030 if any rail holiday mentioned in the pre-brochure captures your interest and you would like to discuss in more detail.
Yours sincerely
Maria Cook
General Manager

Ffestiniog Travel, First Floor, Unit 6, Snowdonia Business Park, PENRHYNDEUDRAETH, LL48 6LD
PRIVACY NOTICE AND NO SPAM POLICY:
We at Ffestiniog Travel take your privacy seriously. You have received this message because your address was placed on our mailing list. We will only send information which we hope will be of interest and will not share contact details with other organisations without your permission. If you do not wish to receive further emails please send an email to kate.berry@ffestiniogtravel.co.uk with "unsubscribe" in the subject line. If you no longer wish to receive our brochures please state this in your email.