Gotthard Tunnel Opening Festival Break
3 June to 6 June 2016
Ffestiniog Travel is delighted to offer you the opportunity to be part of the festivities marking the opening of the longest railway tunnel in the world.
Travel to Switzerland with us in June 2016 and be one of the first to enter the 57km long Gotthard Base Tunnel by train. The tunnel will be officially opened on 1st June 2016 and will be followed by two days of public celebrations.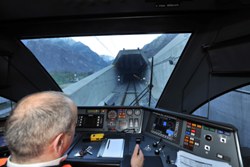 Driving Into the Tunnel ©
Alp Transit Gotthard Ltd/Nicola Demaldi
During the weekend of 4th and 5th June 2016 an expected 50,000 to 100,000 visitors will be offered a unique programme of activities at festival sites at either end of the tunnel. The activities are designed to showcase and applaud the Swiss precision, engineering, innovation and reliability behind the construction.
To find out more about the technical work involved in building the tunnel the Railway Gazette has covered the history of the construction since 1999. Read all about it here.
Our base for the weekend break will be Andermatt and you have the option of travelling there by train or plane. Highlights of the festival will include tunnel rides on the Gotthard shuttle train travelling at up to 200km/h. The tunnel means trains will slice through the Swiss Alps at speed, allowing rail passengers to travel between Zurich and Milan in under three hours.
The project hit the BBC European news headlines back in 2010 when it filmed engineers drilling through the last remaining rock to create the world's longest tunnel.
Telegraph Travel writer James Bedding wrote an in-depth article on how the tunnel will re-define Europe. Describing his travels under and over the Swiss Alps he sums up Switzerland's long-standing love affair with mountains and trains.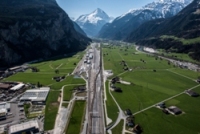 Aerial View ©
Alp Transit Gotthard Ltd
"Not for the first time on this trip I had the impression that there's nothing the Swiss like better than solving a challenge - especially if it involves mountains and trains. This seems equally true whether they are working with steam locos designed to crawl up mountains at 15mph or their electrically driven descendants hurtling underneath the Alps 10 times faster."
More recently in April 2015 Vivienne Walt wrote a piece in Time Magazine after being invited on an escorted guide through the tunnel by train. Her Heart of the Mountain article looks at the environmental and commercial benefits of the tunnel.
The Gotthard Base Tunnel will certainly offer more options for travelling across Europe by train, but it is always worth pausing in Switzerland and exploring its mountains, lakes and picturesque towns and cities with a Swiss Pass. Our 15-day Swiss Alpine escorted tour, which departs on 8th September 2015, is a classic rail tour through stunning scenery and includes journeys on the famous Bernina and Glacier Express rail routes. There will be lots of opportunity for independent sightseeing using a first class Swiss Pass allowing unlimited travel on trains, postbuses, lake steamers, city trams and buses.
Our annual 10-day Snow on The Alps tour, which will depart 10th February 2016 offers probably one of the last opportunities to travel by rail on the scenic Gotthard north-south route before the Gotthard base tunnel opens later that year and when a major part of this journey will be in the tunnel!
If you can't make the opening of the Gotthard base tunnel we can arrange a Tailor Made trip that will include this new underground journey through the Alps from Switzerland to Italy or we can supply rail tickets to a destination via the tunnel that will shorten the journey time considerably. Call us on 01766 772030 or email info@ffestiniogtravel.co.uk for more details about the mini-break in June 2016 or alternative options that will enable you to experience a train ride through the world's longest tunnel.
Yours sincerely
Maria Cook
General Manager

Ffestiniog Travel, First Floor, Unit 6, Snowdonia Business Park, PENRHYNDEUDRAETH, LL48 6LD
PRIVACY NOTICE AND NO SPAM POLICY:
We at Ffestiniog Travel take your privacy seriously. You have received this message because your address was placed on our mailing list. We will only send information which we hope will be of interest and will not share contact details with other organisations without your permission. If you do not wish to receive further emails please send an email to kate.berry@ffestiniogtravel.co.uk with "unsubscribe" in the subject line. If you no longer wish to receive our brochures please state this in your email.