Spaces Available on Popular Romania Tour, 29 September departure!
After two successful tours of our 15-day Mountain & Forest in Rural Romania escorted holiday, we still have availability on our third visit, departing 29 September 2015.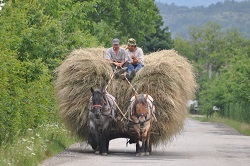 Bringing in the hay
© Ramona Cazacu
Two rooms are left which we are offering as either single or double occupancy.
This tour will not be repeated in its current form and so this is the last chance to visit all six narrow gauge railways within one holiday
The mix of railways plus history and culture (Painted Monasteries, Saxon Villages and so on) plus the autumn colours, make the tour ideal for those with a broad range of interests and their partners.
Fully escorted from the UK plus Romanian guide ensures personal attention in a small group (maximum 12).
Those who travelled on this tour in May and June this year offered this feedback:
"The holiday was a nice balance of city and rural plus railways and culture......A complete delight"
Mr. and Mrs. Brown, Greenwich
"This was an exceptional tour with a good mix of railways, culture and countryside. Tour leaders worked hard and were flexible and knowledgeable. Highly recommended."
Mr. and Mrs. M. Dean, Taunton
To inspire you further here are a couple of useful links providing another independent perspective on Romania, where time really does appear to have 'stood still'.
We will return to rural Romania in 2016 with new itineraries as part of our new Small & Traditional holiday collection.
Contact us soonest if you are interested in joining our next tour to Romania by calling 01766 772030 or emailing info@ffestiniogtravel.co.uk or if you would like to discuss travelling to Romania at a later date.
Yours sincerely
Maria Cook
General Manager

Ffestiniog Travel, First Floor, Unit 6, Snowdonia Business Park, PENRHYNDEUDRAETH, LL48 6LD
PRIVACY NOTICE AND NO SPAM POLICY:
We at Ffestiniog Travel take your privacy seriously. You have received this message because your address was placed on our mailing list. We will only send information which we hope will be of interest and will not share contact details with other organisations without your permission. If you do not wish to receive further emails please send an email to kate.berry@ffestiniogtravel.co.uk with "unsubscribe" in the subject line. If you no longer wish to receive our brochures please state this in your email.