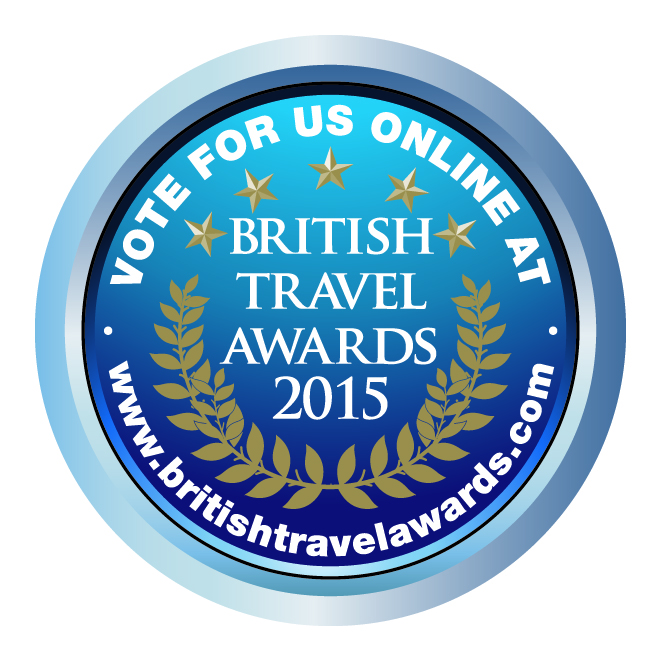 Vote Ffestiniog Travel for Best Rail Holidays Company
With your continued support we hope to improve on our 2014 Silver award in the Best Rail Holidays Company (Small) category at the British Travel Awards (BTAs).
Voting has now opened for the 2015 BTAs and Ffestiniog Travel have again entered the race for Best Rail Holidays Company. Once again a prize chest of holiday related goodies is available to win by those who cast a vote before 30th September 2015 and take the time to complete the TravelVision 2016 survey.
Prizes include:
An 8-day romantic river cruise on the Danube
25 hotel and airport parking packages
A 10-night Canary island cruise from Barcelona
A 7-night tour of Prague, Budapest & Vienna
4 return flights to the Caribbean or South America
A full list of all the prizes can be found on the BTA website. Winners of this year's voters' prize draw will be notified on how to claim their prize by email week commencing 12th October 2015.
Voting couldn't be easier, simply visit the BTA Voting page to register your choice or visit our website at www.ffestiniogtravel.com and click on the BTA logo and complete the pop-up form. The survey is an easy, multiple choice questionnaire which only takes several minutes to complete. The survey provides an effective way of obtaining public opinion on the travel industry and forthcoming holiday trends.
The British Travel Awards give you the opportunity to reward travel and tourism enterprises you feel should be recognised for outstanding performance in service delivery and product offering. We invite you to acknowledge your positive travel experiences with Ffestiniog Travel by voting for us.
We thank you in advance for your support of all Ffestiniog Travel staff and tour leaders and we hope you win a wonderful holiday prize in return for your vote of confidence!
Yours sincerely
Maria Cook
General Manager

Ffestiniog Travel, First Floor, Unit 6, Snowdonia Business Park, PENRHYNDEUDRAETH, LL48 6LD
PRIVACY NOTICE AND NO SPAM POLICY:
We at Ffestiniog Travel take your privacy seriously. You have received this message because your address was placed on our mailing list. We will only send information which we hope will be of interest and will not share contact details with other organisations without your permission. If you do not wish to receive further emails please send an email to kate.berry@ffestiniogtravel.co.uk with "unsubscribe" in the subject line. If you no longer wish to receive our brochures please state this in your email.