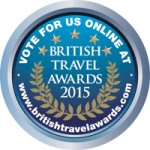 SMALL & TRADITIONAL - NEW TOUR COLLECTION LAUNCHED
For those of you who have travelled with us on our tours to Romania, you will be interested to know that we have developed a brand new holiday collection based on the success of these specialist tours.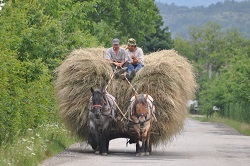 Bringing in the hay ©
Ramona Cazacu
Our new Small & Traditional Tours (S&T) use the same philosophy, specialist team and expert knowledge that has formed the basis of our Romania tours since 2009 and resulted in Ffestiniog Travel becoming one of the UK's leading specialist tour operators to this central eastern European country.
Using the same strategies we have introduced similar, small group tours that explore the rural culture and history of destinations still untouched by tourism.
We are particularly excited at leading a tour, with a maximum of just 20 people, on our very first visit to Georgia where we will enjoy 'Springtime in the Caucasus', visiting remote hamlets, ancient settlements and the highest inhabited village in Europe! In addition to the day-to-day tour itinerary you can read an in-depth travel blog on Georgia written by Ffestiniog Travel's Alan Heywood following a research trip he took to the country earlier this year. He explains why he penned such a detailed travelogue:
"If you have just a little sense of adventure and are curious to visit some of those places that you have so far only read about, you might be really pleased to know more."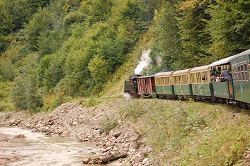 Viseu de Sus forestry railway ©
Ramona Cazacu
If that doesn't whet your travel appetite, why not explore the Hidden Secrets of Bulgaria This S&T escorted tour is also limited to just 20 people and mixes scenic rail journeys with visits to historic towns and stays in rural guest houses.
Of course this new collection would not be complete without Romania playing a major part and we include not one but two S&T tours to the country in 2016, with places limited to just 12 people per tour. Moldova & Eastern Romania reveals the cultural and political differences of these two neighbouring countries. Visit Moldova's famous wineries, monasteries and ride its Russian broad gauge railways before crossing the border to Romania and enjoying the tram network of Iaşi and travelling to more remote parts of the country.
Our Rural Romania tour celebrates the rustic culture of this country by enjoying family run 'homestay' accommodation and eating locally grown produce whilst riding its narrow gauge railways and visiting remote Saxon villages and simply stepping back in time.
Now is the time to visit these wonderful countries while they still remain untouched by tourism. By travelling with a small escorted group, led by an expert tour leader from the UK, accompanied by a knowledgeable English-speaking local guide, you can be assured the experience will fulfil expectations. An introduction to our Small & Traditional tours is on our website but if you would like to discuss any elements of the tours in detail please call 01766 772030 or email info@ffestiniogtravel.co.uk.
Yours sincerely
Maria Cook
General Manager

Ffestiniog Travel, First Floor, Unit 6, Snowdonia Business Park, PENRHYNDEUDRAETH, LL48 6LD
PRIVACY NOTICE AND NO SPAM POLICY:
We at Ffestiniog Travel take your privacy seriously. You have received this message because your address was placed on our mailing list. We will only send information which we hope will be of interest and will not share contact details with other organisations without your permission. If you do not wish to receive further emails please send an email to kate.berry@ffestiniogtravel.co.uk with "unsubscribe" in the subject line. If you no longer wish to receive our brochures please state this in your email.